If your son or daughter will or might participate next year in education-based athletics at Jimtown High School, they must complete an IHSAA physical exam and have some other required forms completed and turned in before they can try out for a team.   The IHSAA and certain 
state laws require that these be completed before the student can even practice with the team.  Once this physical is complete, it will cover the entire 2021-2022 school year.
As in years past, Jimtown Athletics will provide an opportunity for you to complete this physical exam requirement before this school year is out at our IHSAA Physical Examination night.  This year the physical examinations will be held on  Tuesday, May 18, 2021 at Jimtown High School from 5:30pm to 7:00pm
Sponsored by Corporate Care of Elkhart—area Docs and other health professionals will be on hand to provide completion of these required physicals at a minimal cost of $25.00.  You can pay by cash or check.  You would make checks out to "Jimtown Athletics" if paying by check.
In years past, this event was first-come, first-served.  Many people had to wait in line for an hour or more.  In order to make this process more efficient this year, we will again this year, use a sign up process by which folks can sign up to get their son or daughter's physical and will only have to show up at the assigned time.  It  worked very well last time and people said the process was much quicker and they did not have to wait in line nearly as long.  There will be a 15 minute time slot reserved at the end for "walk-ups"….those people who did not make an appointment, but still want to get their physical done on May 18th for $25.
To take advantage of this great opportunity, you will be required to do THREE things:
1.  Sign up for an appointment in one of the 15 minute "slots" that we have set up for May 18th  Click the following link, read the instructions and sign up for a time that is right for you.  If you have more than one athlete coming in for a physical, make sure that you sign up for two or more slots as needed.  When you provide an email address on the signup page, it will send you a reminder two days before the event.
      Click this link below to sign up for your time slot on May 18th: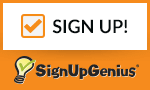 2.  Show up on May 18th date at the correct time on your signup.
3.  Complete and sign the parent and student portions of the Athletic Eligibility packet and bring it with you to the physical examination night on May 18th.  This packet contains the IHSAA physical exam form and also some other concussion information and various consent and release forms.
You can get these forms by either:
             a) picking one up in the Jimtown High School main office…or
             b) downloading and printing the packet by clicking the following link:
https://drive.google.com/drive/folders/0B0CSxVj2_Q7_WXdPZUI3a1N3UVU
Thank you and we hope to see you on May 21st.   GO JIMMIES!!